Blogging is a form of content creation on the internet. It gives tips, informs, and inspires consumers on a daily basis. It is important for companies to be blogging but why? At Abundant Marketing, we strongly believe in the benefits of blogging and have seen firsthand how it can improve a business.  
5 Reasons why every small business should be blogging: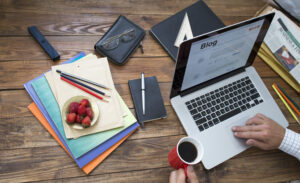 SEO:

One of the biggest benefits of blogging is search engine optimization. When your company website is pushed to the first page of google your website is bound to have more traffic. With an increase in traffic comes an increase in leads. With consistent content creation, SEO is likely to improve. 
Multi Uses:

With blogs, content creation does not have to end there. Blogs can be refurbished into more types of content through social media and newsletters. Posting on Facebook, LinkedIn, or Instagram about a recent blog post, gives you more content on more platforms as well as drives more traffic to your website. 
Customer Engagement:

Blogging isn't only for your business but is also for your customer. By constantly creating new content that past and future customers can look at, it keeps them more engaged with the company and at the forefront of their minds. Engaged customers oftentimes leads to returning customers. 
Showcase the Business:

When blogging you can write about whatever you want, so you might as well make it great. It is the perfect platform to highlight the strengths that you have. Whether it be writing about the services that can be offered or tips and tricks for consumers, it can be used as a way to show the strengths of the company.

New Clients:

Blogging is likely to bring in new clients. If a potential client is searching for something that you wrote a blog about, it is likely they will stumble on your website. It is possible for that new traffic to turn into business for your company.
At the end of the day, blogging is important. It is a form of content creation that is almost limitless. You can write about anything, but make sure it is closely related to your products and services. For any blogging questions feel free to contact us here!